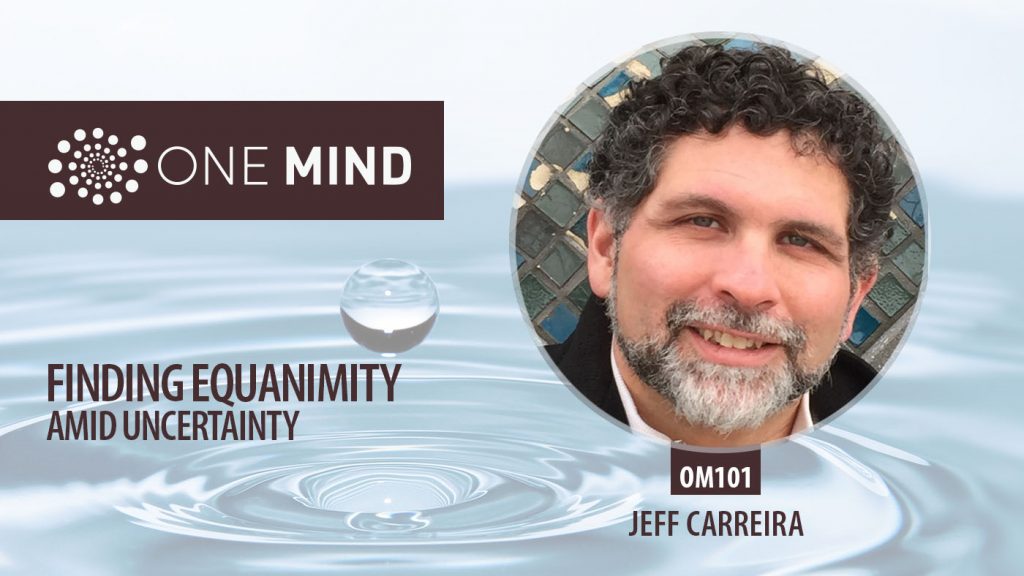 In this escapade, I interview my former mentor and spiritual professor Jeff Carreira.
Jeff and I lived, toiled, and rehearsed in an intentional spiritual society together for 13 times in Western Massachusetts. Jeff was not only a spiritual instructor to me during that time, but he was also my boss.
Jeff was the Director of our educational programming, and I was his program manager. Together, Jeff and I constructed a thriving program of retreats and virtual courses.
And in a strict ashram with a hard schoolteacher, Jeff required an oasis of ease and compassionate proximity. Jeff cured me, and many others, through many a rough patch.
Today, Jeff leads his own retreats, courses, and teacher trainings over at JeffCarreira.com .
Find Equanimity Amid Uncertainty
So I was delighted to reconnect with him during this Zoom interview with a live public. I spoke with Jeff at the outset of the pandemic in March as part of a series called Finding Equanimity Amid Uncertainty. And as always, he was intent on communicating a send of positivity and possibility.
Then, he headed us all through a potent leader reflection and answered questions.
I encourage to make the time to listen to this whole episode. Putting aside an hour and find a gentle place to listen. You'll get a heavy quantity of Jeff's infectious hope be accompanied by a depth dissemination of agreement, ease, and fundamental well being.
Free Resources from Jeff Carreira
If you want to learn more about Jeff's work or be participating in him directly, here are some resources for you 😛 TAGEND
Life Without Fear: Meditation as an Antidote to Anxiety- Free Workshop Audio Secrets of Profound Meditation: 6 Spiritual Insights That Will Transform Your Life
The post OM1 01- Jeff Carreira on Finding Equanimity Amid Uncertainty showed first on About Meditation.
Read more: aboutmeditation.com